I attended a performance driving school this week in my fast, fancy European sport wagon, the Volvo V70R. It's got 300 HP, All-wheel drive, and a 6-speed manual transmission. I special-ordered it from the factory to be sure I got the exact high-performance car I wanted.
The school consists of a morning classroom session followed by driving exercises focusing on car control, handling, and braking. Then we drive at slow speeds (50-60 MPH max) around the racetrack to become familiar with it. After lunch and a short discussion of the track, we spend the afternoon lapping at speeds with which we are comfortable, and which our vehicles can handle.
One year ago, a bunch of us owners of new Volvo R cars were invited to a local European dealership chain's performance driving school. Six or seven of us attended last year. The dealership chain sells Mercedes, Porsche, Audi, and Volvo, and most of the other cars were Porsches.
I decided to attend again this year. Four of us from last year's crew were debating attending, but this year only two of us did. The other repeat attendee recently sold his S60R and bought a used 2004 Porsche 911 Carrera 4S. He has 3 kids, his wife drives a Toyota Sienna minivan. I'm afraid an entire fleet of Porsches won't make up for owning a Toyota Sienna minivan. But I digress. His Porsche is below. He's going faster than my high-end digital camera makes it look.
This year, the only other Volvo at the school was a new 2007 XC70: basically, a decently powered, tall station wagon on very soft springs with an automatic transmission. I'm thrilled I wasn't driving it. I can't imagine.
About half of the remaining cars were Porsches (mostly 911s but a few Boxsters), about half were Audi sedans (mostly S4, with an RS4 thrown in plus a TT, A6 and A8). The handful of others were an Acura NSX, Mazda RX7, and a handful of Mercedes: CLS550, CLK55 AMG, C230 Sport, and new GL320 diesel (yes, their biggest SUV, in a 6-cyl diesel), as well as a new Infiniti G35S sedan and a first-gen G35 coupe.
We had 2 run groups at the school, so that half of the cars were on the track at a given time. The GL, CLS, and C230 were all in my run group, as was the G35S. The CLS was driven by a 40 year old Chinese man who spoke with a very thick accent, and who explained that he bought himself the car several months ago for his 40th birthday. Seriously, he looked like a bad driver, even when standing apart from his car. The CLS is a BIG car, but the 550 isn't the performance version of that vehicle. As we were standing around discussing our cars, he explained that it has a 6-speed automatic transmission (it's actually 7 speeds). One of the other Mercedes drivers (the C230 driver) asked about the paddle shifters on the steering wheel. Mr. CLS said there are no paddle shifters. It turns out he didn't know what those things behind the steering wheel were, he thought they operated the cruise control which he had never used. Looks like he's off to a good start…

When we got out on the track, the C230 and the GL were obviously underpowered in comparison to the other vehicles on the track. They were easy targets for passing. The CLS was an easy target because the driver didn't understand what a "Line" through the corner was, nor was he able to understand when it was best to use the accelerator or brake pedals to quickly make his way around the track. He was an idiot. He should have been cited for DWA. He did get to see the R's taillights pulling away more than once.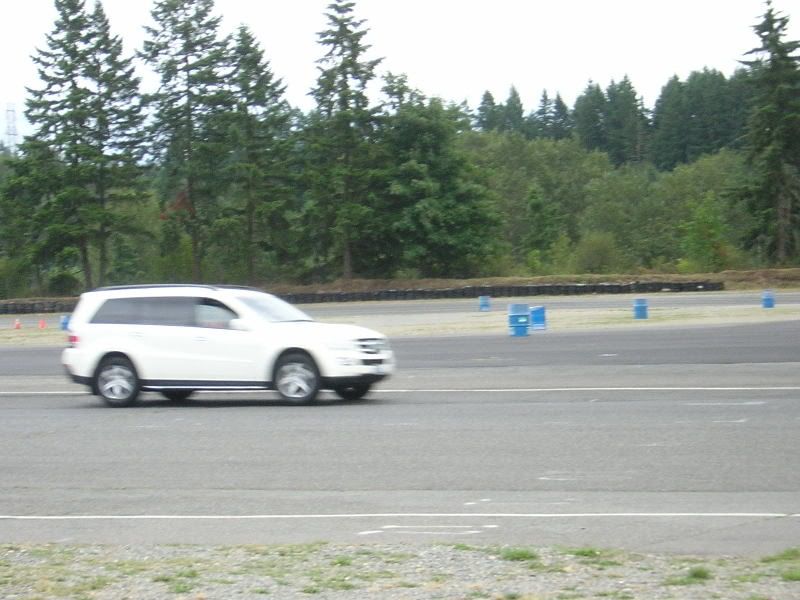 Better him than me!
The Porsche owners in attendance were split in to two groups: The gearhead guys who bought their cars to drive them fast (and already knew how to), and the poseurs who bought Porsches so they could be seen in Porsches. I passed two such 911s in my R. If I can outrun your new Porsche in my Volvo wagon, you probably shouldn't be driving a Porsche. You should be driving a Camry. Also, just a tip: don't wear Birkenstock sandals to driving school... or even to just drive your Porsche. Just ride the bus. Idiot!
(Birkenstock guy holding up the erstwhile R owner)
Interestingly enough, two different Porsches had mechanical problems while on the track. The first was towed in after it started smoking heavily from the exhaust after turn 2. The second I actually found by driving right into a smoke cloud exiting turn 2. Somehow on fast, sweeping left-hand turns oil can enter the intake, causing it to be ingested to the cylinders. Evidently, it's a known problem with Porsche 6-cylinder engines. Yes, really… Porsches have this problem at race tracks. It's shameful. No wonder the only dealer representative at the track was the Porsche Service Manager. He "fixed" the problem by wiping the oil from the intake with rags, and revving the engines in the parking lot to burn all of the oil off. What a sight. Seems like the service department at the Porsche store must keep busy.
The guy in the G35S had cool Puma driving shoes, poor driving skills, and a terribly unattractive car. The new G35 sedan is being tested by the auto magazines as a BMW 3-series competitor, but I don't know how people can credibly compare the two when the new G35 is so anonymously styled. He thought his car was way cooler than my R. I guess "cooler" doesn't mean faster around the track, loser!
On my final laps, light rain began to fall. It's so liberating to drive 100 MPH with the windows open in the rain, feeling the fresh air buffeting the cabin, sensing the car and the track with my eyes, ears, nose, skin, and the "seat of my pants". For any of you loyal readers who are actual "car drivers" rather than "automobile operators", I recommend a performance driving school. It will help you become a better driver, learn the handling limits of your car, and give you a day of enjoyment lapping on the race track. The extra bonus is that you can come home and make derisive comments about all of the dumb-asses who own expensive cars and think they're hot shit. What could be better than that?